在最新的规范里规定了单个排烟口的最大排烟量,但是规范只说了单个口不能超过的最大排烟量,没有写明若超过单个口的排烟量后防烟分区内多个排烟口的间距。在浙江省的解释中,补充了多个排烟口的间距计算方法,但是也没有说明来源。在国标的条文解释里提到计算公式来源于NFPA92,遂找到了NFPA92的相关条文,解释了该公式的来源。
GB51251-2017-建筑防烟排烟系统技术标准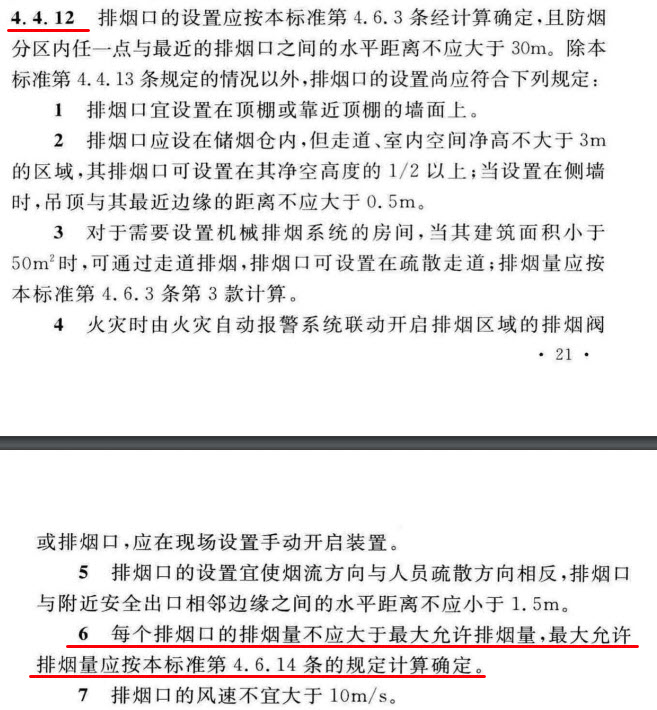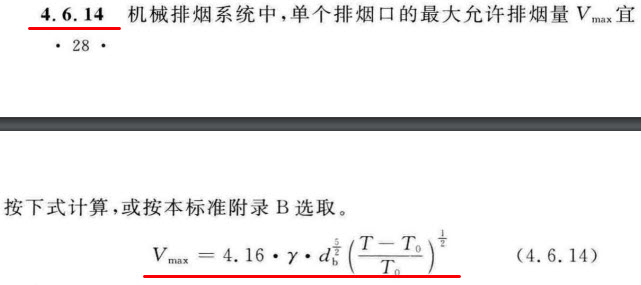 《浙江省消防技术规范难点问题操作技术指南》建筑防烟排烟系统补充技术要求(2019 年版)

以上所有的国标及地方补充规范内容均参考了NFPA92的5.6章节Number of Exhaust Inlets.
该章节的说明和国标的表述有些差别,原文如下
5.6.1 The minimum number of exhaust inlets shall be determined
so that the maximum flow rates for exhaust without
plugholing are not exceeded.

5.6.2 More than the minimum number of exhaust inlets required
shall be permitted.
大致意思是:必须确保排烟口的最小数量使单个排烟口的最大排风速率不产生plugholing效应,设置的排烟口大于计算的最小数量也是可以的。
在3.3.10条,对plugholing效应有如下解释
3.3.10 Plugholing. The condition in which air from below the
smoke layer is pulled through the smoke layer into the smoke
exhaust due to a high exhaust rate.
既当排风量过大时烟层下方的未污染空气被连带抽出。
5.6的条文解释中对排烟口的设置做了如下解释
A.5.6 The sizing and spacing of exhaust fan intakes should
balance the following concerns:
(1) The exhaust intakes need to be sufficiently close to one
another to prevent the smoke from cooling to the point
that it loses buoyancy as it travels along the underside of
the ceiling to an intake and descends from the ceiling.
This is particularly important for spaces where the length
is greater than the height, such as shopping malls.
(2) The exhaust intakes need to be sized and distributed in
the space to minimize the likelihood of air beneath the
smoke layer from being drawn through the layer. This
phenomenon is called plugholing.
The objective of distributing fan inlets is to establish a
gentle and generally uniform rate over the entire smoke layer.
To accomplish this, the velocity of the exhaust inlet should not
exceed the value determined from Equation 5.6.3a or 5.6.3b.
既
1.减小排烟口的间距,避免烟雾沿着天花移动至排烟口的过程中温度下降并离开储烟仓。
2.排烟口的大小和间距要避免产生plugholing效应
参考
GB51251-2017-建筑防烟排烟系统技术标准
《浙江省消防技术规范难点问题操作技术指南》建筑防烟排烟系统补充技术要求(2019 年版)
NFPA 92 Standard for Smoke Control Systems